In my previous post about Fashion Island, I stated that I would add in some photos of the kiddos. Stella is Angry Toddler's BFF. He's known her since birth. Well she is 2 months older.
Stacey and I love watching them grow up together. It's soo damn cute. I really love our Saturday morning tradition that we've started. Even though, I'm half awake, and my hair usually looks like a rooster.
They really tire each other out. Usually on Saturdays, Angry Toddler takes a 4-5 hour nap. Seriously, I don't know why, but Stella really tires him out.
Just getting to the mall, they were very excited. We told them to hold hands and they obliged us.
We told them to hug each other. Can't you just feel the love in this picture?
Angry Toddler's version of a hug. I think he will be an outstanding football player.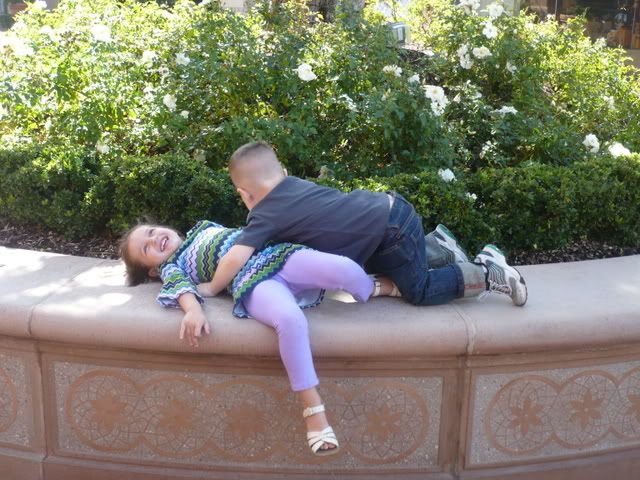 You can really see Angry Toddler's military-style haircut in these pics. His jeans are rolled up cause they were way too big. They were a size 4T, and he's definately a 3T. The poor child has extremely short legs like my side of the family. I only have a 26 inch inseam. We were at the mall to buy him some jeans. I didn't have any clean ones for him to wear.