I had to devote a post just to talk about a local mall. We have several malls around here in Orange County. My BFF, Stacey and I, decided we needed to take a trip to
Fashion Island
, here in Newport Beach. Both of our kiddos needed jeans. We were being cheapskates, and headed to Fashion Island to go visit the local,
The Chilren's Place
. Seriously $11.00 for a pair of jeans is a good deal. Angry Toddler has been wearing jeans almost every day for the past week. I love
babyGap's jeans
, but at $24.50, they get quite expensive.
Stacey drove us all to the mall. She knows that I'm barely awake on Saturdays. She put her extra carsear in her Volvo, so Angry Toddler can have somewhere to sit. He loves that pink Britax Regent. She parked on the top level of the parking structure. It was a beautiful day in Newport Beach. I usually have a camera in my purse, so I had to pull it out to take the pictures below. Seriously, this was the view from the parking structure.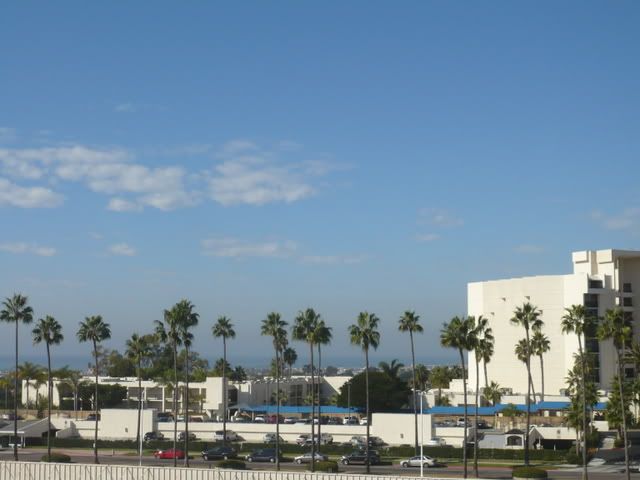 As I was taking pictures of our view, I looked down. I saw a huge dirt lot. There used to be a
Macy's Women's store
at the place of the dirt lot. I got a little tear in the corner of my eye. I used to work loss prevention at this paarticular Macy's. I would actually call it the start of my law enforcement career. Anyway, I looked further, and got the most fantastic feeling in my chest. YESSSS!!! They are building a brand new
Nordstrom
. It will be finished in 2010. Yes, that' over a year away. But all my favorite stores will pretty much be at this mall. I love walking around here. There is some awesome people watching.
I'm going to do a seperate post to show some photos of the kiddos while we were shopping.