I'm on several children's clothing forums. I've learned alot about shopping from them. I've learned about season's, sizing for each brand, and of course discounts.
There's an online boutique site, called
Chasing Fireflies
that has a website and a catalog. I love the unique things that they have in there.
Usually Angry Toddler is quite destructive with magazines and books. For some reason or another, he is obsessed with their catalog. He keeps pointing to things, and says "look mama, that's soooo cool". Yea, me thinks I'm passed on my shopping bug to Angry Toddler.
Unfortunately, one of the bad things about the site is the prices, they are kinda pricey. Note to self: Must list e-bay auctions asap!
Here are a few of the things that I like from their current catalog: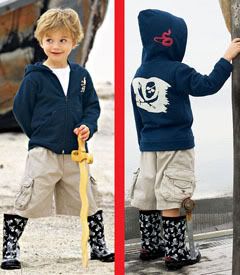 P.S. Don't even look at the girl's stuff. Thank god, I don't have a girl. There's some To Die For goodies on there. Including their Halloween costumes.