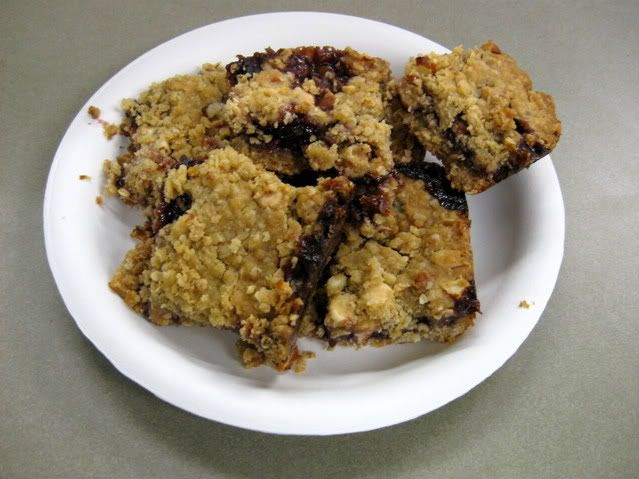 I received this recipe last week. It is going to be in a cookbook that I will be talking about more next Spring-ish. Anyway, the people who know me best, know that I do not bake, cook, or do anything in the kitchen.
While I was making these, I was Google Chatting with
Londie
. She thought it was hilarious that I was baking. Even Angry Husband was perplexed. I was making these to take into work today. We do dinner every Sunday for our shift. I thought I would contribute this week. Everyone who ate them, really liked them. I'm so proud of myself.
Here's the recipe if you all want to try it. They are pretty easy to make.
Ingredients:
* 1 1/4 Cups quick oats, uncooked
* 1 1/4 Cups all-purpose flour
* 1/2 Cup firmly packed brown sugar
* 1 Teaspoon baking powder
* 1/4 Teaspoon salt
* 1 3/4 Sticks butter, unsalted melted
* 1 Cup raspberry jam or preserves
* 3/4 Cup white chocolate chips, divided
* 1/4 Cup chopped almonds
Preheat over to 350 degrees. Combine oats, flour, brown sugar, baking powder, and salt in a large bowl. Stir in butter until mixture is moist. Reserve 1 cup of the crumb mixture; set aside. Press remaining crumb mixture into bottom of an 8" x 8" square pan. Bake 10 minutes.
Spread raspberry fruit evenly over baked crust to within 1/4" of edges. Sprinkle with 1/2 cup white chocolate chips. Combine reserved crumb mixture with ramaining 1/4 cup white chocolate chips and almonds. Sprinkle over fruit mixture, pressing lightly into fruit, and all te way to the edge. Bake 25 to 30 minutes or until golden brown. Cool completely on wire rack. Cut into squares and serve.
Makes 16 servings.