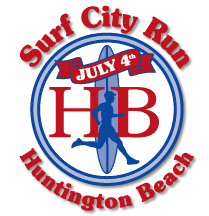 I thought, I would recap our 4th of July Holiday in order. I started off the morning by doing the HB Surf City Run with my running pal, Monique. It was a 5K.
As I hit Mile 1, I knew that I was struggling. I realized that umm, I didn't work out that much in the past week. I really need to increase my workouts again. I was such a slug.
I finished the run with a time of 35:12 which is a good time for me. Unfortunately, it is not a timing chip event. I love races with those timing chips. My official recorded time is 38:03, which is totally crappy. I waited in line forever to rip that tab off my running bib. I know that this was supposed to be a "fun" event, but I'm trying to get better times.
Here are some pictures of running pal, Monique, and I: