Angry Husband's cousin just had a baby on Sunday, a baby girl!!! I asked AH's other cousin what the family needs (secretly hoping there is a registry). She responds with, "Oh, they have all the basics, but they need clothes."
This is a really hard predicament for me. I admit it, I'm a clothing snob for kid's clothes. I really didn't turn into "this person" till Angry Toddler was about 3-4 months old. When he turned about 3 months old, he finally started fitting into all the cute Gymboree clothes that I had received from baby showers. Once I saw how cute the stuff was, well I never went back to Carter's.
So I went out this afternoon looking for the perfect baby gift. I went to Nordstrom, my favorite Department store. I saw all kinds of cute things, but nothing perfect.
I then went to the dreaded Carters. I grabbed like 3 outfits, that were like $8 each. I looked at them, they were cute, but not cute enough. Sigh, I walked out of the store.
I then went into the Bellini baby store. I walked around in circles. I even told the employee, I am a snob, I need a gift, but can't find the perfect item. Even the clerk said, did you try Gymboree? I sighed and said, yes, my mom even works there, but they don't have anything "Spring enough" right now as this family lives in Arizona.
I did buy one thing though, I got these
Trumpette
socks, aren't they cute!!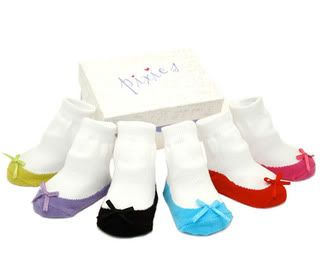 I think I may hit the local baby boutique when I'm working these weekend. Sigh...
And even though, I wasn't looking for Angry Toddler, I found a ton of cute stuff for him! Not that he even needs clothes, his closet is out of control.