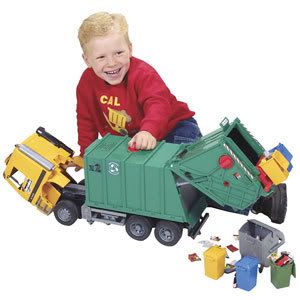 Angry Toddler received a catalog from
Young Explorers
yesterday. He picked out the Bruder Recycling and Garbage Truck from the catalog. The truck is priced at
$79.95
. YES, that is pricey, but I know that Bruder makes great trucks and they are very durable.
Well luckily, I'm a pretty savvy shopper. I've already found the truck cheaper at the following sites:
The Golden Apple Learning Store
-$59.95
Image Toys
-$64.95
Play Fair Toys
-$65.95
Amazon
-$55.99
I could potentially save over $20 for this truck by just shopping around. There are also lots of sites with Free and/or Reduced Shipping. If you start shopping early enough, there are deals out there.
I just wanted to type this, because luckily for the internet, we are able to bargain shop and we don't even have to leave our houses!