A week ago, last Saturday, I ran the Disneyland Family Fun Run with my pal, Monique. It was part of Disneyland's 1/2 Marathon Weekend.
On the Friday before, we had to pick up our race packets. It was total chaos, which almost go Mo into a fight with some crazy lady. Geez... There were tons of people at the race expo. I got kinda sad though, cause I wished I could have signed up for the 1/2 Marathon. I also was pissed cause we paid alot of money, over $40 for this race, and it was not chip timed. Seriously, $40-something, and I can't even see what my time was.
So we arrived at the race, after paying $12 friggin dollars to park. There were apparently over 5,000 people running. Yikes! I made Mo go up the front of the pack. I started off really good. I keep getting stopped though cause walkers were getting in my way. People should know common etiquette, that if you are walking a race, you need to go to the left or right side so runners can pass. We ran through Disneyland and California Adventure. Throughout the race course, there were characters that you could take pictures with, well, Mo had the camera.
I finished the race under 34 minutes which is a personal best for me. I don't know my official time because I did not see a clock at the finish.
But we got tons of pictures taken, and I ran into my other running pal, Casey. I had been looking for Casey all over.
I told Mo, next year, we are definitely doing the 1/2 Marathon.
Running in front of the Matterhorn.
The medals for the end of the race.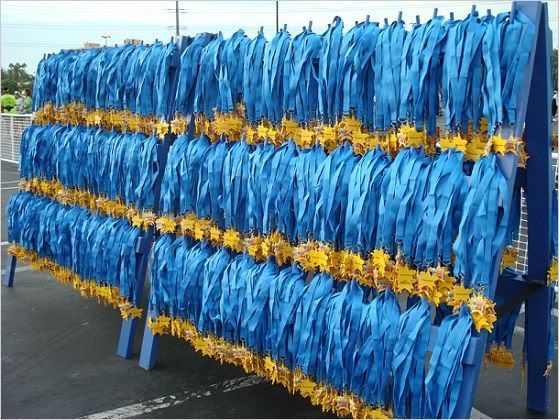 Casey and I.
Monique and I.